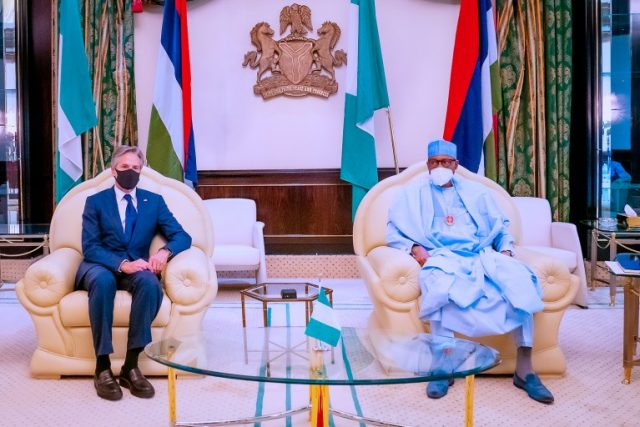 On the recent removal of Nigeria from watchlist of countries violating religious freedom, which Blinken said was "based on facts," President Buhari expressed the country's appreciation, noting that there was freedom of worship in Nigeria, and no one is discriminated against on the basis of his or her faith.
He said education is a priority in the country, "because when you educate a people, there are certain levels they will not fall below."
The President equally appreciated the United States of America for allowing Nigeria to procure military hardware to fight terrorism in the country, and for the training given to the Nigerian military.
Read also: President Buhari Hosts US Blinken, Secretary of State, Talks on EndSARS Report (Photos)
"It's helping us to stabilize the situation in the Northeast, and we've made a lot of progress since 2015," he said.
"We are doing a lot on security, and the people involved appreciate our efforts," he added.
On the development of democratic ethos, President Buhari said Nigeria has adopted the American model, "hook, line, and sinker, with its term limits.
Those who have attempted to breach it were disappointed, if not disgraced. You are even lucky if you have two terms. Others try hard, and don't get it. The American model has been accepted by Nigerians as the best."
[carousel_slide id='8496']
Advert Inquiries & Submission of News report or Articles
Articles and News Report: Info@ideemlawful.com or deemlawful@gmail.com
For your Adverts, Banner Placement, Publicity, Press Releases, Promotions, Special Reports, Featured Stories, Events Coverage, Conferences, Interviews, And So On.
Info@ideemlawful.com or 09093862098 (whatsapp only)