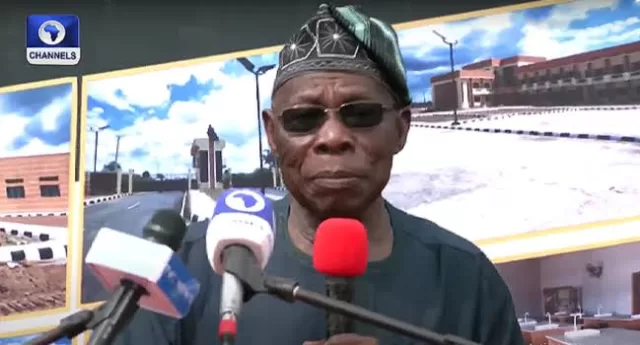 A mild drama was inevitable when former President of Nigeria, Olusegun Obasanjo caused a stir during the inauguration of the 34.85km Oyo-Iseyin road in Oyo State.


Obasanjo was on Friday, September 15, 2023, invited by the governor of the state, Seyi Makinde for the opening of internal roads in Iseyin.

But when he was given the opportunity to talk, Obasanjo instructed the royal leaders to rise and greet him.

He made a gesture, calling upon the traditional rulers to stand, and they complied.


The incident have however met with criticism on social media, some accusing Obasanjo of showing disrespect to the traditional rulers.


@iam_oara reacted; "When all of them have collected Ade paali finish."

@iamAbiodunAA said; "Since the Kings, Traditional rulers and elders are allegedly collecting Salaries, Bonuses, contracts etc from the government (Governor/President) I don't see anything wrong in what OBJ said/did and NO I no be OBJ person at all. The government have a lot of power over them so why? Government wey fit comot them? Government na number 1 o!!!"

@isaaccrownie wrote; "The governor of the state where the kingdom is domiciled gives the staff of office to that king…the governor can also withdraw that staff of office!!! The traditional institutions are now being powered by elitist political machinery!!"

@KenUttih said; "There's nothing like traditional institution in Nigeria. We once had it before independence but it's gone right now. They're just traditional custodians. Don't ascribe the word institution to them. They have no constitutional power."

@samadegoke_ wrote; "But I am certain it can't be Olubadan, Alaafin, or Ooni, he's referring to with this speech."

During his address, Obasanjo urged leaders at all levels to embrace a form of democracy that promotes prosperity rather than one that inflicts suffering on the people.

He stated, "We must discard a form of democracy that perpetuates poverty, insecurity, and unemployment, and instead prioritize the people's enjoyment of the dividends of democracy."

According to the ex-president, democracy is nothing without work.

"Democracy that nurtures poverty is abortion. Democracy that nurtures unemployment is a failure," he added.

"That's when democracy would continue to survive and people will feel that yes, democracy is a worthwhile system of government that must be embraced."


Obasanjo also stated that he was particularly delighted that the governor chose him to be part of the success that he is achieving in Oyo State
🔎Follow Us On Our Social Handles🔍
```