Webinar on Climate Change: "How the Attention Economy Impacts Climate Change"
The Green Club at the University of Ilorin is set to host an enlightening webinar on climate change, focusing on the critical topic of "How the Attention Economy Impacts Climate Change."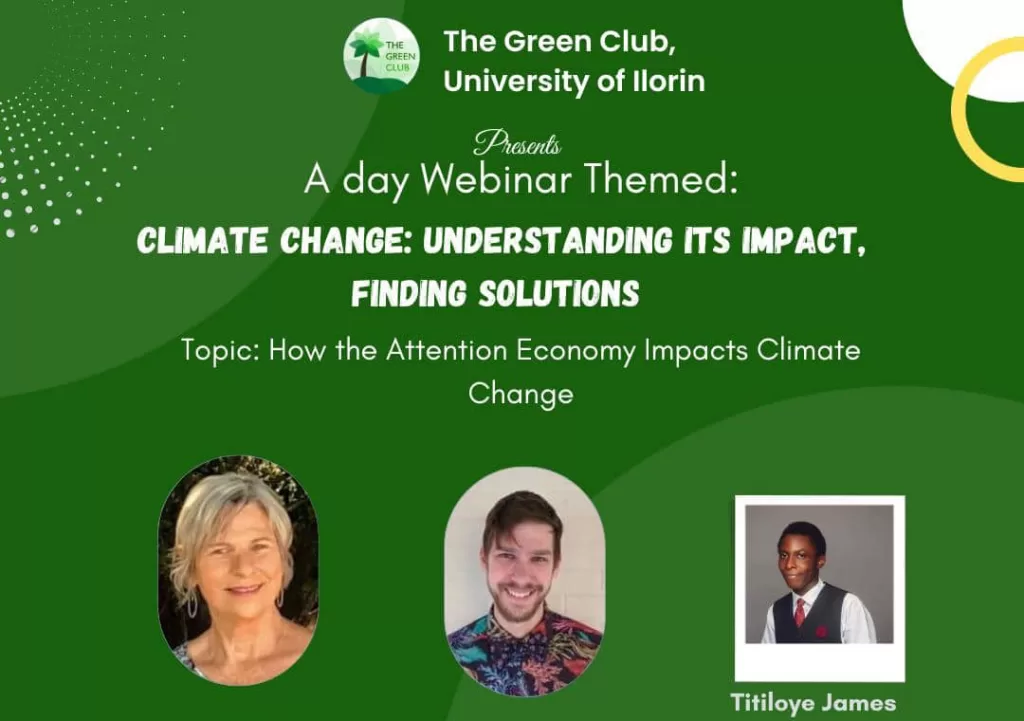 The webinar aims to shed light on the relationship between the attention economy and its effects on climate change, while exploring potential solutions to mitigate these impacts.
Expert Facilitatora
The webinar will be led by two distinguished experts in the field of sustainability and climate activism:
Dr. Patricia Klauer – An esteemed entrepreneur and specialist in sustainable development, Dr. Klauer brings her extensive expertise to the discussion. Her work in addressing climate change challenges has garnered recognition in various circles.
Kristopher Doerfler – As the Director of Innovation at CMI Media Group in Mexico, Kristopher has been at the forefront of climate activism. He has actively participated in campaigns aimed at raising awareness about climate change issues.
Moderator
The webinar will be skillfully moderated by Titiloye James, a 400-level law student.
With a keen interest in environmental issues and a passion for facilitating meaningful discussions, Titiloye promises to guide the session with insight and professionalism.
Webinar Details
The webinar is scheduled to take place on Friday, 28th July 2023, at 5 pm CAT, and will be conducted on the popular online platform, Zoom.
This virtual event provides participants with the convenience of attending from the comfort of their homes while engaging with the facilitators and the moderator during the interactive Q&A session.
Promising Insights and Solutions
The "How the Attention Economy Impacts Climate Change" webinar promises to offer participants valuable insights into the correlation between the attention economy and its influence on climate change.
Through thoughtful discussions and expert perspectives, attendees will gain a deeper understanding of the challenges posed by the attention economy and how we can collectively work towards finding sustainable solutions.
Join the Webinar and Be Part of the Change!
For registration and participation details, please visit [https://forms.gle/1L4UPXLJVwCMoqK77]. Don't miss this chance to be part of the solution!
The Green Club's webinar is an excellent opportunity for students, scholars, and climate enthusiasts to expand their knowledge about the impact of the attention economy on climate change.
By participating in this informative session, attendees can actively contribute to the ongoing conversation on climate action and foster a greener, more sustainable future for our planet.
🔎Follow Us On Our Social Handles🔍
```