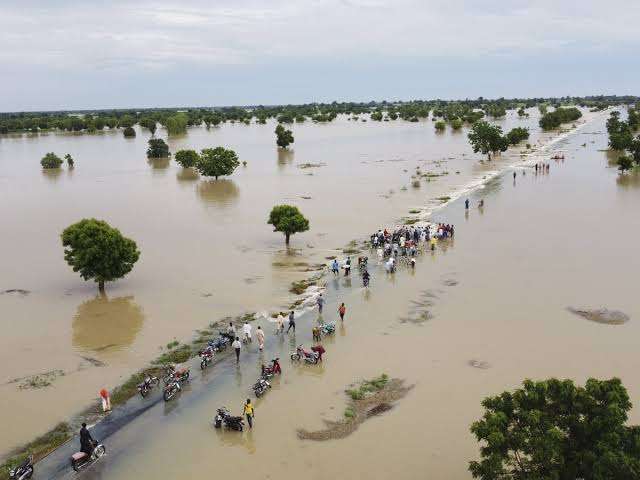 The Nigerian Civil Engineers, under the aegis of the Nigerian Institution of Civil Engineers (a division of the Nigerian Society of Engineers -NSE) has expressed concern over the issue of flooding in the country and thereby called on all concerned to work together to tackle the menace.
The Engineers converged in Abuja to brainstorm on solutions to flood challenges in the country during the 3rd Engr. Umar Gambo distinguished the annual public lecture, with the theme; 'Emerging Issues, Challenges and Solutions to Flooding in a Changing Environment -FCT in Focus'.
Engr. Chukwudi Ezugu, the National Chairman, of the Nigerian Institution of Civil Engineers (NICE) in his welcome address said that the theme cannot be timelier than now, that in the past decade, especially last year, the peak of rainy seasons has become a nightmare to millions of Nigerians because of the flooding that accompanies it, resulting in devastating effect including fatalities, loss of precious properties and destruction of key infrastructure, especially homes, road networks, community shores, jetties, and water schemes.
"It is in recognition of this disturbing national problem that we have gathered here to raise our voices once again and draw more attention to the urgent need to tackle this hydra-headed problem.
"The rainy season has become a nightmare to Nigerians because of heavy flooding which accompanies these rains, thereby resulting in fatalities, loss of property, and destruction of infrastructure. Before now, Civil Engineers have brainstormed, and made proposals, to both States and the Federal Government, but all to no avail, in terms of proactive planning, and execution of critical infrastructure projects to stem this ugly tide," he said.
Engr. Professor Onemayin David Jimoh, of the Department of Civil Engineering, Federal University of Technology, Minna, the Guest Speaker, identified major contributory factors to this devastating problem to be poor planning, rapid population growth, inadequate drainage systems and basins, poor environmental management, including solid waste disposal, climate change, and poor infrastructure.
He thereby made an admonition to the Engineers to continue to do their best in curbing flood menace and achieve a flood-free environment in the country.
Engr. Clement Nze, Director General/CEO of the Nigerian Hydrological Services Agency, (NIHSA) also harped on the need to checkmate the severity of flooding, this year 2023, which according to forecast, will be massive again.
🔎Follow Us On Our Social Handles🔍
```