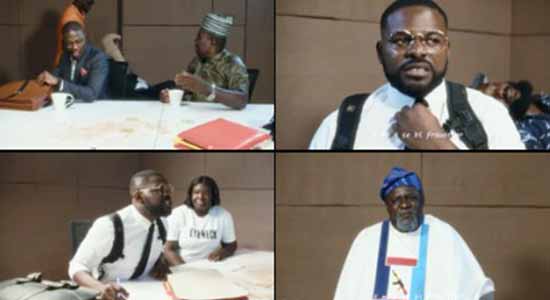 Veteran Nigerian rappers, Falz and Vector, in their newly released beats, have expressed their views about the 2023 elections.
The latest song which is titled 'Yakubu', after the INEC chairman.
Recall the Nigeria presidential, gubernatorial, national assembly and state assembly elections was conducted by the INEC Boss, Prof. Mahmood Yabuku. The process has met serious condemnation by many observers due to electoral malpractice, violence and lack of transparency as alleged.
The duo singers in their new song represent frustrated Nigerians, and didn't hold back on calling out the INEC, its chairman and other political parties allegedly involved in the electoral malpractices.
'Mr Yakubu' had criticised poor conduct of the election of some areas where massive failure of the Bi-modal Voter Accreditation System (BVAS) was recorded. The suspicious downtime of the electoral commission's server, thwarting the stipulated rule of uploading results from various polling units to increase transparency.
'Mr Yakubu' maintains that the election has not reflect the N305 billion – Nigeria's highest election budget in modern times – that was spent on the exercise.
"Mr Yakubu don't behave like a fraudster… the 300 billion you collected from the government, what did you do with it?" the song rhetorically asked in its lyrics.
"You wrote fake figures, the portal shut down, and you're lying to us that somebody hacked it… Mr Yakubu don't be a fraudster," it added.
Vector criticised the ruling party's claim that the election was free and fair. According to him, the impropriety was obvious beyond what anyone could deny.
The song also highlighted several factors that were at play during the election season including violence and improper religious, tribal and ethnic divisions which were employed by politicians to secure their bases
🔎Follow Us On Our Social Handles🔍
```