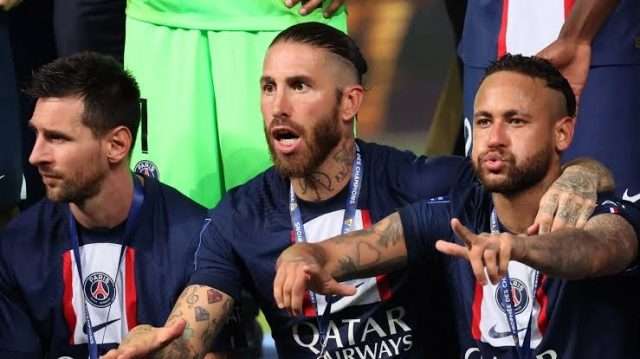 The Paris Saint-Germain in a recent development reportedly encouraging some of their top players to move to Saudi Arabia in preparation for what is termed summer rebuild.
The reports in the Spanish press claimed that the willingness of the French club to hear offers for Neymar and has already let Lionel Messi and Sergio Ramos understand that they are allowed to move on.
The club hopes to convince some of their players to follow Cristiano Ronaldo's example and move to Saudi Arabian sides.
[ALERT! 🔵]JOIN our Group to Receive latest News updates directly on your WHATSAPP.
[TAP HERE!!]
Ronaldo's Al-Nassr rivals, Al-Hilal, where Odion Ighalo plays currently, are targeting on landing Messi and may make a move for Neymar if not possible to lure the Argentine to Saudi Arabia.
While Neymar seems not to currently interested in leaving PSG, he may consider an offer. Meanwhile, Ramos is been reported on negotiating a potential move to Al Nassr.
Kavilla Custard
[NEW📢!]JOIN our Group to Receive latest News updates directly on your WHATSAPP!
[TAP HERE!!]
Paris Saint-Germain's willingness to listen to offers for some of their top players has raised eyebrows, and the club will have to navigate the summer transfer market carefully. However, their efforts to encourage players to move to Saudi Arabia could provide an opportunity for some players to pursue a new challenge
[carousel_slide id='8496']
🔎Follow Us On Our Social Handles🔍
```