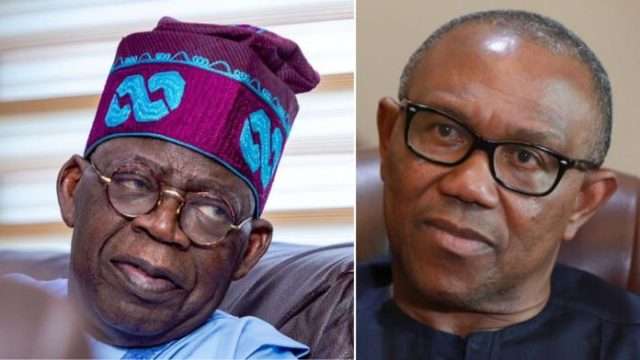 In a petition marked: CA/PEPC/03/2023, suing both the Independent National Electoral Commission (INEC); Tinubu; his running mate, Senator Kashim Shettima, and the All Progressives Congress as the 1st to 4th respondents respectively.
The petitioners, who is the Peter Obi and host party, Labour Party (LP) on the other side.
The petitioners are requesting for the tribunal to declare that Tinubu was not duly elected by a majority of the lawful votes cast during process of the general election.
They want an order mandating INEC to retrieve the certificate of return earlier issued to the APC candidate then issue a fresh one to Obi.
On another notes, the petitioners had specifically alleged that as at period of the election, Tinubu was not qualified to contest.
Their prayers also include the argument that the election was invalid by reason of corrupt practices and non-compliance with the provision of the Electoral Act 2022.
Obi prayed the tribunal to make an order cancelling the election and compelling INEC to conduct a fresh election in which Tinubu, Shettima, and the APC will not participate.
The Labour Party (LP) and its candidate, Peter Obi, have formally filed a petition at the Election Petition Tribunal in Abuja to challenge the declaration of Bola Ahmed Tinubu of the All Progressives Congress (APC), as the winner of the February 25, 2023, presidential election.
Obi, who came third in the last election had filed his petition at the Presidential Election Petition Court in Abuja, at about midnight on Tuesday.
The Labour Party candidate sought five prayers in his petition.
Principal among his prayers is his call on the court to cancel the 25 February presidential election and order a fresh poll.
The petition, jointly filed by Obi and the Labour Party as co-petitioners, joined the Independent National Electoral Commission (INEC), Tinubu, Shettima Kashim (vice president-elect), and the All Progressives Congress (APC) as the respondents.

Tuesday, being the 21st day after the declaration of the results of the election on 1 March, is the last day he any other aggrieved candidates and political parties had to file their petition in court.
INEC Chairman, Mahmood Yakubu, who announced the final results in the early hours of 1 March in Abuja, said Atiku Abubakar of the Peoples Democratic Party (PDP) PDP came second in the election.
Atiku polled a total of 6,984,520 votes in the election. Obi of the Labour Party came third in the election with a total of 6,101,533 votes, while Rabiu Kwankwaso of the NNPP came fourth with 1,496,687 votes.
Similarly, the Action Alliance and the Allied Peoples Movement have equally lodged separate petitions to challenge the outcome of the presidential election.
While the petition by Action Alliance and its presidential candidate, Solomon Okanigbuan, was marked: CA/PEPC/01/2023, that of the Allied Peoples' Movement, was marked: CA/PEPC/04/2023.
The candidate of the Peoples Democratic Party, Atiku Abubakar, is expected to file his own petition before midnight when the deadline will elapse
🔎Follow Us On Our Social Handles🔍
```