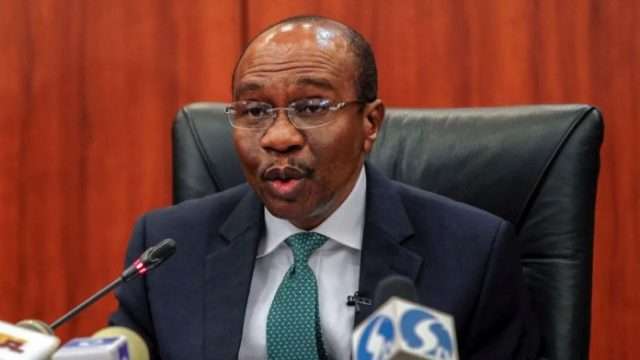 The governor of the Central Bank of Nigeria (CBN) Godwin Emiefele has said that the apex will not allow itself to be used to frustrate the forthcoming general elections.
Emiefele made this known while playing host to the Chairman of Independent National Electoral Commission (INEC) Prof Mahmood Yakubu and 11 National Commissioners in at the CBN's headquarters in Abuja, on Tuesday, February 7, 2023.
Responding to a request from Yakubu that the CBN should find a way of addressing scarcity of currency across the country 17 days to the Presidential and National Assembly elections since some service providers to the commission were "unbanned," he said the CBN will make available every cash needed to pay logistics for the success of the elections.
He further said; "The CBN will not allow itself to be used as agents to frustrate the forthcoming election which is a positive assignment.
"If you require cash to pay some of your service providers, we will make it available to you. We will not allow ourselves to be seen as agents that frustrate a genuine assignment".

The INEC chairman had told the CBN Governor the 2023 polls will be the best in Nigeria's history, adding that concerns have however been raised about the processes leading to the elections.
He said while the Commission has transfered all its accounts at the state and national level to the apex bank, some of the services being rendered to the Commission need to be paid for in cash.
The 2023 general will be conducted between February 25 to March 11. While February 25 is meant for presidential and national assembly elections, March 11 is for gubernatorial and state assembly elections
[carousel_slide id='8496']
Advert Inquiries & Submission of News report or Articles
Articles and News Report: Info@ideemlawful.com or deemlawful@gmail.com
For your Adverts, Banner Placement, Publicity, Press Releases, Promotions, Special Reports, Featured Stories, Events Coverage, Conferences, Interviews, And So On.
Info@ideemlawful.com or 09093862098 (whatsapp only)