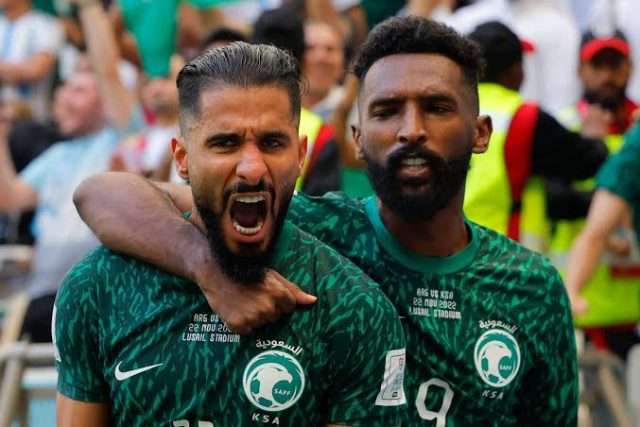 Saudi Arabia King, Salman bin Abdulaziz has declared a national holiday following the country's stunning 2-1 victory over Lionel Messi's Argentina in the 2022 Qatar World Cup.
This is according to a statement issued by the official Saudi Press Agency, on Tuesday, November 22, 2022.
The statement stated that all employees in the public and private sectors will have the day off work, tomorrow, Wednesday, November 23, 2022. Students will also not have to attend lessons.
Saudi Arabia shocked favourites Argentina with brilliant goals from Saleh al-Shehri and Salem al-Dawsari.
The Green Falcons, ranked 51st in the global rankings, beat the world's third-best team in a pulsating match at Doha's Lusail Stadium.
Messi slotted in a penalty after a video review spotted a foul, as the South Americans dominated but had three goals disallowed.
But the Saudis spoiled Messi's World Cup swansong with two stunning second-half strikes in quick succession, first from striker al-Shehri and then winger and captain al-Dawsari.
"One of the biggest shocks in FIFA World Cup history," tweeted the tournament's official account.
Saudi Arabia's historic victory broke Argentina's 36-game unbeaten streak.
The South American side are one of the favourites to win the whole tournament, having beaten rivals Brazil to win the continental Copa America tournament last year.
In the second half, under intense pressure, as the Argentinians sought a late equalizer, the Falcons' defenders put their bodies on the line with last-ditch tackles and goal-line clearances.
Goalkeeper Mohammed Alowais made five saves in total, picking up a yellow card in the process for dissent for what he thought was a foul.
The win will come as a shock even within Saudi Arabia: last month Crown Prince Mohammed bin Salman told his country's players that no one expected them to win any points at the tournament.
"I know our group is difficult in the World Cup, and nobody expects us to secure a win or a draw. So what I want to say is just be comfortable, play your game and enjoy the tournament," the de-facto Saudi leader said
🔎Follow Us On Our Social Handles🔍
```