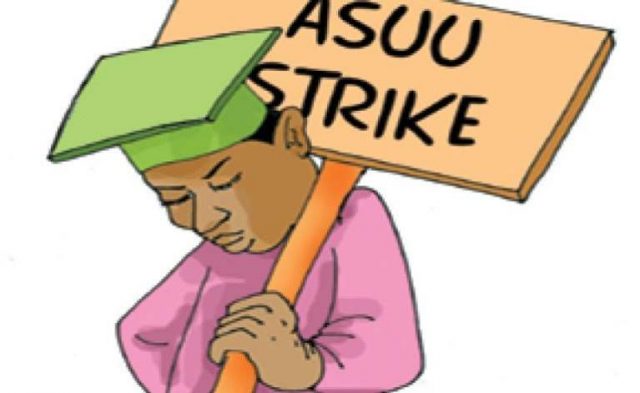 Motorists plying the Lagos-Ibadan Expressway were yesterday, stranded for hours, as protesting university students blocked the road in protest against the continued strike by members of the Academic Staff Union of Universities, ASUU.
Vanguard News
The students, who acted under the aegis of the National Association of Nigerian Students, NANS, blocked the road at the Sagamu Interchange.
Caught in the gridlock was the Olowu of Kuta in Osun State, Oba Adekunle Oyelude, Tegbosun 111, whose convoy was heading for Lagos.
Oba Oyelude, who addressed the students, commended the orderly manner that they conducted themselves.
He urged the Federal Government and ASUU to find a way of resolving the crisis as the students had stayed long at home doing nothing.
But the protesting students, in a statement by the Coordinator, South-West Zone and National Public Relations Officer of NANS, Messrs Adegboye Emmanuel and Giwa Temitope respectively, said the President Muhammadu Buhari-led Federal Government has failed in its promise to revamp education.
The students vowed to mobilise towards shutting down the Presidential Villa if their demands are not met.
The statement reads: "There is no point arguing about who is at fault or what is to be done. It is very clear that the ruler underfunds education and the Buhari government is failing in its promise to revamp education.
"As it is today, no higher institution in Nigeria is world-class. Yet, our so-called public servants travel all over the world spending billions of dollars to send their kids abroad for studies.
"As major stakeholders in the education sector, we are the ones who can save ourselves. We have monitored the yearnings of students from campus to campus through their social media platforms and also in their public writings. Students all over Nigeria stand with ASUU. Our lecturers suffer the same hardships and mal-developments we suffer. The staff houses are as bad as the students' hostels. In South Africa, a professor's laboratory is far more equipped than that of any university in Nigeria.
"History has been killed and undermined, so we the youths, do not know where we are coming from not to talk of knowing where we are headed. But we will not lament anymore. The new leadership of NANS is here to work with students to achieve our set aims and objectives. We believe that the student movement has its place in history. It is a task that we vow to fulfil. We will never let Nigerian students down."
[carousel_slide id='8496']
Advert Inquiries & Submission of News report or Articles
Articles and News Report: Info@ideemlawful.com or deemlawful@gmail.com
For your Adverts, Banner Placement, Publicity, Press Releases, Promotions, Special Reports, Featured Stories, Events Coverage, Conferences, Interviews, And So On.
Info@ideemlawful.com or 09093862098 (whatsapp only)