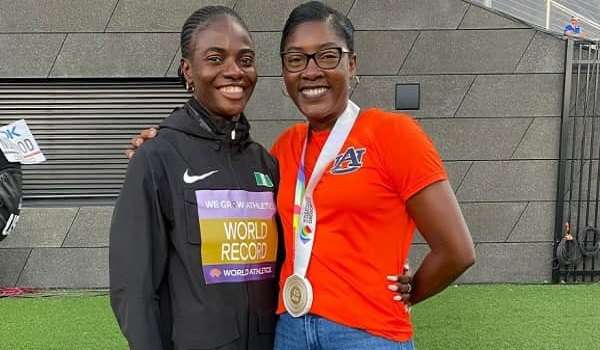 Amusan's remarkable feat and outstanding performance have brought glory not just to her but also Nigeria and the African continent.
Recently, the 25-year-old clinched gold medal at the World Athletics Championship.
She beat an array of sprint champions, including world record holder Kendra Harrison, Jamaica's Brittany Anderson and Olympic champion, Jasmine Camacho Quinn to emerge Africa's first ever-gold medalist in the Women's 100m hurdles.
In her latest feat, Tobi got another record-breaking gold medal for team Nigeria at the Commonwealth Games in Birmingham, United Kingdom.
For Tobi, she owes her success to the guidance and trust of her coach – Lacena Golding-Clarke, who she described as her 'second mummy'.

Tobi in a post on her Facebook page said: "Y'all should meet my lovely coach and second mum, Coach Lacena Golding Clarke.
"She recruited me while I was back in Nigeria to University of Texas, El Paso when I was running 14.2s and today is history for both of us.
"She was also a world class hurdler during her active days; multiple finalist at the Olympics, World Championships and a Commonwealth Games Champion representing Jamaica."
Who is Lacena Golding-Clarke?
Lacena Golding-Clarke was born March 20, 1975 in Clarendon, Jamaica. She is a retired female hurdling athlete from Jamaica.
She represented Jamaica at the Summer Olympics in 1996, 2000 and 2004, and took part in the World Championships in Athletics on five occasions.
Amusan and her Jamaican coach have been together since 2016
Lacena helped Amusan focus on training hard and lowering her personal best from 13:10 to 12:83. Those were the humble steps the new world champion had to climb in order to attain the current global reckoning.
She began her career as a long jumper and she participated in this event at the 1996 and 2000 Olympic Games. Her personal best jump is 6.87 metres, achieved in June 1998 in Kingston.
She won a gold medal in the 100 metres hurdles at the 2002 Commonwealth Games. Her personal best time is 12.68 seconds, achieved in June 2005 in Kingston. Other high points of her hurdles career included a bronze at the 2003 Pan American Games and a bronze at the 2006 Commonwealth Games.
She retired from track and field in 2010 after having reached her sixth consecutive 60 m final at the IAAF World Indoor Championships.
After graduating from Auburn University with a BA in Political Science and Government in 1999, Golding-Clarke was a volunteer assistant coach at Auburn from March 1999 to August 2006 and then moved to the University of Texas at Austin to work as a coach from September 2006 to 2011.
In May 2012, Golding-Clarke became the assistant coach at the University of Texas at El Paso (UTEP).
While at UTEP, Golding-Clarke coached 13 All-Americans, 32 regional qualifiers, 32 C-USA individual title winners, and eight school record-breakers, including Tobi Amusan
[carousel_slide id='8496']
Advert Inquiries & Submission of News report or Articles
Articles and News Report: Info@ideemlawful.com or deemlawful@gmail.com
For your Adverts, Banner Placement, Publicity, Press Releases, Promotions, Special Reports, Featured Stories, Events Coverage, Conferences, Interviews, And So On.
Info@ideemlawful.com or 09093862098 (whatsapp only)