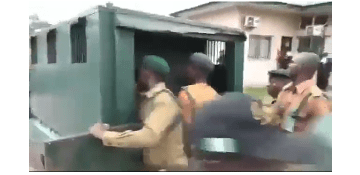 Drama ensued while he was being taken back to prison as he attacked a lawyer and prison officials in a brazen attempt to escape. He was however, overpowered and bundled into the transport van.
Uduak Akpan, on Thursday attempted fleeing after he was sentenced to death by the Akwa Ibom State High Court.
Justice Bassey Nkanang sentenced him to death by hanging for the murder of Iniubong Umoren.
Uduak's father, Frank Akpan, and his sister, Anwan Bassey (2nd and 3rd accused) were discharged and acquitted.
Kavilla Custard
According to journalist, David Hundeyin; "Just came off the phone with Ifiok, Ini Umoren's sister who was at the court today.
She said that after his verdict and sentence was read out, Uduak Akpan resisted handcuffing and tried to strangle one of the lawyers in the courtroom before he was overpowered
[carousel_slide id='8496']
Advert Inquiries & Submission of News report or Articles
Articles and News Report: Info@ideemlawful.com or deemlawful@gmail.com
For your Adverts, Banner Placement, Publicity, Press Releases, Promotions, Special Reports, Featured Stories, Events Coverage, Conferences, Interviews, And So On.
Info@ideemlawful.com or 09093862098 (whatsapp only)