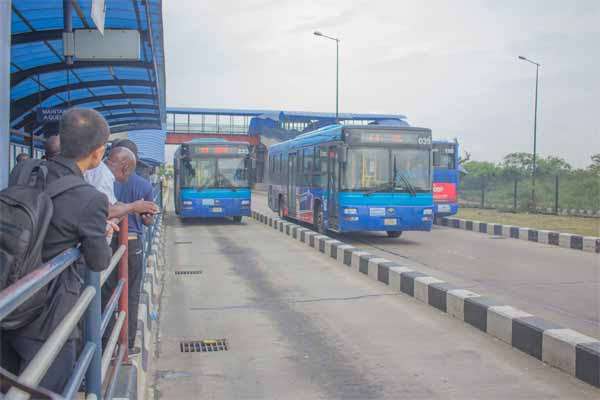 My dad narrated an incident to me a few years ago. He was in a long vehicle that's common around some axis in Lagos called BRT, Bus Rapid Transit which was initiated by the administration led by Tinunbu in 2007 this vehicle has lots of seats for the passengers, and also some supports to hold while standing for people who are unable to get seats which people call STANDING.
So, while he was on the bus along Mile-2/Oshodi road, he was sitting down, and other people were coming in too, when the last set of people along with a man entered, there was no seat to accommodate them, so he stood along with other standing passengers. As soon as the bus get filled up, the bus started moving, when they get to a point on the road, the conductor started collecting money from the passengers, people were paying as it gets to their points, as soon as it was this man's turn to pay, the conductor asked him to bring out his money, he didn't make any move to bring it out, rather he was directing his face somehow to his left side, he then looked down, he was trying to communicate with the conductor but he wasn't deciphering anything from his actions.
The conductor kept asking for money but he was doing the same thing, the conductor was blabbing, saying "àdén nbàyin sòrò, èdèn sebi kìnìkan, ti èèbà lowo è màà bòlè ni wàjù oo"(We are talking to you and you are doing strange things, if you don't have money, prepare to go down when we get to the front oo), the conductor kept saying other things, like "ko sì òfè ni Eko oo"(There is no free thing in Lagos oo), he then moved to the other person and continue collecting his money.
When the collection of the money has gone round, he now moved back to the man and say "are you now ready to pay or you are getting down at the next bus stop", the man now talk, he said to the conductor to come and remove money from his pocket, the conductor felt he was trying to create violence, so he started shouting again.
The man now used his mouth struggling to move the sleeve of his clothing up, as he did, people now noticed he doesn't have both hands, it was just a long sleeve cloth trying to cover up, as soon as people saw this, my dad said they were shocked, including him the conductor stopped all his ranting too, and started having cold shoulder, he couldn't even ask for money again because he felt regretful for his previous actions and felt pity for the man's disability.
Moral Lesson
Did you know that we all have something to be grateful for, never underestimate the glory of God upon you, and don't be too forward to get mad at people? Did you know that someone that doesn't has both hands can do absolutely NOTHING alone, he can not eat or drink on his own, put on his clothes on his own, in fact he can not go to the toilet and bath on his own talk less of pooing and washing his hole on his own. He will need the help of someone for absolutely everything he wants to do, so be grateful and do good to people regardless.
Usama Mujahed, Olagunju.
[carousel_slide id='8496']
Advert Inquiries & Submission of News report or Articles
Articles and News Report: Info@ideemlawful.com or deemlawful@gmail.com
For your Adverts, Banner Placement, Publicity, Press Releases, Promotions, Special Reports, Featured Stories, Events Coverage, Conferences, Interviews, And So On.
Info@ideemlawful.com or 09093862098 (whatsapp only)