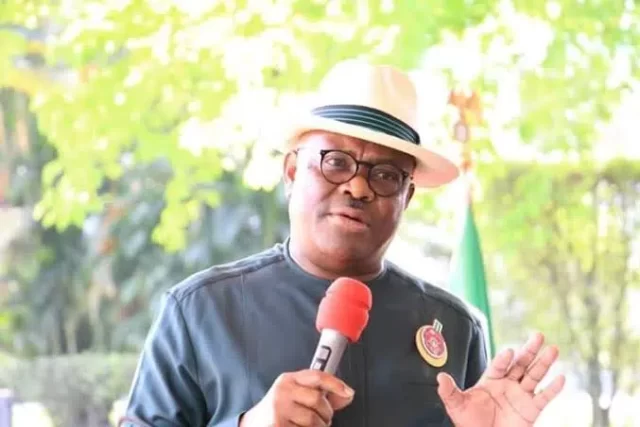 As the 2023 election gathers steam, member of the Peoples Democratic Party (PDP) Board of Trustees (BOT) and former governor of Plateau state, Fidelis Tapgun, has described Governor Nyesom Wike's meeting with Bola Tinubu, the presidential candidate of the All Progressives Congress (APC) as "anti-party activity.''
Ealier report has it that the recent London meeting of Wike and Tinubu has unsettled the PDP and its presidential flagbearer, Atiku Abubakar.
Wike, who emerged second during the presidential primaries of the PDP in May, has been at loggerheads with Atiku following the selection of Ifeanyi Okowa, the Delta State governor, as Atiku's running mate.
Spirited efforts by PDP leaders to persuade Wike to give Atiku total support have hit the rock.
Instead, the former Minister has upped his romance with chieftains of opposition parties.
"How can you be in the PDP and every time, he (Wike) is seen or heard romancing with the opposition politicians? What does that mean if not anti-party (activity)?' Tapgun queried in a chat Punch.
The former governor urged Wike to stop behaving as if he owned the PDP, saying: "The PDP owns Wike and not the other way round. The way he is going is not good for the party and he should stop that.''
He added: "If not that some of us want reconciliation in the party, he should have been disciplined long ago. I expect him to know this and stop making things difficult for the PDP in its quest to liberate Nigerians from the bad governance foisted on them by the ruling APC.
[carousel_slide id='8496']
Advert Inquiries & Submission of News report or Articles
Articles and News Report: Info@ideemlawful.com or deemlawful@gmail.com
For your Adverts, Banner Placement, Publicity, Press Releases, Promotions, Special Reports, Featured Stories, Events Coverage, Conferences, Interviews, And So On.
Info@ideemlawful.com or 09093862098 (whatsapp only)