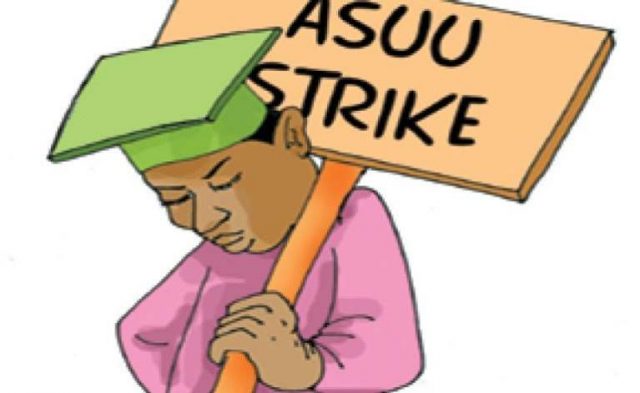 Mobilisation for the two-day nationwide protest by Nigeria Labour Congress, NLC, in solidarity with striking university workers, has reached feverish point as more critical industrial unions have keyed into the protest.
This came as NLC berated the Minister of Information, Lai Muhammed, for accusing it of planning to cause anarchy with the planned protest scheduled for Tuesday and Wednesday, saying the Minister is happy that while his children and those of others like him are graduating from universities outside Nigeria, children of the poor have been shut out of Nigeria universities for the past five months.
The unions in the nation's university system, particularly the Academic Staff Union of Universities, ASUU, have been on strike for five months and above over unresolved issues with the Federal Government.
Non-Academic Staff Union of Educational and Associated Institutions, NASU, National Association of Academic Technologists, NAAT, and Senior Staff Association of Nigerian Universities, SSANU, have equally downed tools for over six months because of pending issues with the Federal Government.
And in keeping with the slogan that an injury to one is an injury to another, state chapters of ASUU, NASU, NAAT and SSANU in state owned-universities have also been on strike in the same length of time despite the fact that the contentious issues affect mostly Federal Government owned-universities.
NLC had, in a circular to its state councils and affiliates, dated July 15, 2022 and signed by its President and General Secretary, Ayuba Wabba and Emma Ugboaja respectively, announced Tuesday and Wednesday as protest days in solidarity with the striking university unions, in all state capitals and Abuja.
Ahead of the protest, critical sector unions have continued to sign in.
More unions sign up
Among key unions that have indicated interest in the protest are the Nigeria Union of Petroleum and Natural Gas Workers, NUPENG, National Union of Electricity Employees, NUEE, National Union of Banks, Insurance and Financial Institutions Employees, NUBIFIE, National Union of Air Transport Employees, NUATE, and National Union of Textile, Garment and Tailoring Workers of Nigeria, NUTGTWN.
Others are the Maritime Workers Union of Nigeria, MWUN, National Union of Civil Engineering Construction, Furniture and Wood Workers, NUCECFWW, National Union of Railway Workers, NUR, and National Union of Food,Beverage and Tobacco Employees, NUFBTE.
In a statement, President and General Secretary of NUCECFWW, Stephen Okoro and Ibrahim Walama, respectively said, "The protracted ASUU strike has been as a result of Federal Government care free attitude towards ASUU, NASU, SSANU demand for the welfare of working people in tertiary institutions and particularly Federal Universities".
ASUU warms up
ASUU itself said at the weekend that it was mobilising members nationwide for the two-day solidarity rally.
Disclosing this in a chat with Sunday Vanguard, the National President of ASUU, Prof. Emmanuel Osodeke, said ASUU, as an affiliate of NLC, would mobilise its members for the Tuesday and Wednesday protest.
"We are in full support of the step that the NLC wants to take by organising a solidarity rally in support of our struggle. We are not agitating for ourselves but for improvement in the education sector generally. As an affiliate of the Congress, we are going to be part of the event and we will mobilise our members for it too.
"We keep saying it that the struggle should not be left for ASUU alone. Every right thinking citizen of this country should be part of it. Education is an important sector that should not left to the whims and caprices of those not bothered about what happens to it. A nation cannot develop more than its level of education. We hope the government would wake up to the reality of the time and accord the sector the needed attention and priority," he said.
Recall that ASUU has been on strike since February 14 this year over some demands from the government.
The Federal Government later set up the Prof. Nimi Briggs-led committee to renegotiate the 2009 agreement endorsed by the union and the FG.
Government is saying that it cannot meet the financial obligations required to implement some aspects of the agreement, while ASUU is accusing the government of not according priority to education.
However, the report of the Briggs Committee has been jettisoned by government.
[carousel_slide id='8496']
Advert Inquiries & Submission of News report or Articles
Articles and News Report: Info@ideemlawful.com or deemlawful@gmail.com
For your Adverts, Banner Placement, Publicity, Press Releases, Promotions, Special Reports, Featured Stories, Events Coverage, Conferences, Interviews, And So On.
Info@ideemlawful.com or 09093862098 (whatsapp only)