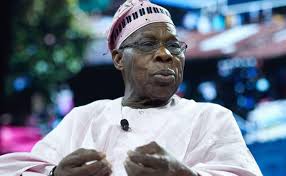 Former President Olusegun Obasanjo has said the collective concern of Nigerians is how to make Nigeria better in post-Buhari era.
He appealed to Nigerians to unite so that they can have a peaceful and prosperous country.
Obasanjo, who was angry about the happenings in the country and how Nigerians address themselves and where they come from, said, "One thing we have in common is that we have Nigeria.
My "Nigerianess" is bigger and very important. We are making the mistake of considering where we were born above our country."
He spoke in Abuja yesterday alongside other prominent Nigerians at a "Security Dialogue Retreat" organised by Global Peace Foundation and Vision African on social cohesion, sustainable peace and security in Nigeria.
According to him, "Whatever God has given to Nigeria, is for all of us. Humanity and the gift of God must be understood," adding that the constitution and the issue of state police must be legislated before the 2023 general elections.
"It matters a lot because the state governor is the chief security officer of the state but what instrument does he have to protect the people?" Obasanjo asked, stressing that insecurity in Nigeria is local and must be addressed locally with the state police.
"So, legislation should be able to tackle that before the next election," Obasanjo said, adding that President Muhammadu Buhari has done his best and insisted that anyone that is asking for more from him is just beating a dead horse.
Also, 96-year-old elder statesman, Alhaji Tanko Yakasai, said the country was created by God and called for the implementation of the outcome of various meetings on national issues.
He said, "Most decisions are not implemented. If decisions are not implemented, the country is going nowhere."
Earlier, the Sultan of Sokoto and president-general of the Nigerian Supreme Council for Islamic Affairs (NSCIA) Alhaji Muhammad Sa'ad Abubakar III said there was never a time the late premier of Northern Nigeria and Sardauna of Sokoto, Sir Ahmadu Bello said the South would be a conquered territory.
The eminent monarch reacted to a claim by Niger Delta activist Ankio Briggs that Sir Ahmadu Bello's statement was quoted in the Parrot Newspaper of 12th October, 1960.
The Sultan said what people are claiming that the Sardauna said was untrue.The president of Global Peace Foundation, James P. Flynn said the country can solve its problems as one family under God.
The Sultan who said there is hope in finding a solution to the problem facing the country, said: "Peace is very important. Without peace, you can't even worship God."
You cannot love God if you don't love your neighbour because God created him. We find people killing themselves. We must go back to the holy books and work according to those books. Stop laying blame. We must not politicise insecurity. There is hunger in the land. There is hunger in the land. A hungry man is an angry man," the Sultan added.
Ankio Briggs said, "We cannot have peace when we can't address injustice and oppression. In 1960 a statement was made by Sir Ahmadu Bello; I see the problem we have in Nigeria today."
The Christian Association of Nigeria (CAN) president, who was represented by Archbishop John Praise, said the government has the power of implementation.
According to him, where there is no justice, there won't be peaceHe called for fairness in the military and in the Judiciary adding that education is important.
Also, the leader of the Pan Niger Delta Forum (PANDEF) Chief Edwin Clerk, who was represented, said Nigerians must keep talking.
"They must have a consensus. We insist there must be equity, fairness and justice."
We must have an open mind.The level of intolerance is from the elites. He said there must be fairness. We must listen to each other, and be fair to each other," he added.
Also, the chairman of the Arewa Consultative Forum (ACF) Chief Audu Ogbe said what set the younger generation on fire is joblessness and poor economy.
"Why would a group of people go into a school and take six years old children into the bushes and allow them to die? I warned of impending violence in Northern Nigeria. I said many of the industries have died, the only thriving industry was politics. Five years later, Boko Haram began under Yar'Adua. Can we end this only in Northern Nigeria?
Also, the Middle Belt Forum which was represented by the president of the Southern Kaduna People's Union (SOKAPU) Jonathan Asake said people kept giving wrong narratives about herders and farmers clashes terrorists have taken over their communities."
When we talk about peace, it means some communities are fighting each other which is not true. In the Middle Belt, several communities have been displaced with women kidnapped and raped on a daily basis.
The secretary-general of Ohanaeze Nd'Igbo, Ambassador Ken Uche, said they have a country but don't have a nation.
"The stories we are hearing, the unending killings, kidnapping in the entire country, not a North or West matter, it's a Nigeria problem. What is happening. Where are we heading to? Every sector is dying. You can't solve the problem if you don't know where the problem is," he said, adding, "We need a genuine Peace. Violence is not in our character," he said.
The director of publication, Northern Elders Forum (NEF), Dr Hakeem Baba-Ahmed said every part of the country has a problem.Former governor of Akwa Ibom State, Chief Obong Victor Attah, said Nigeria has been scratching around the problem.
"How can we say someone will want to stay in an association they don't believe in? It's all about injustice and nobody is satisfied with the present condition. We must sit down and renegotiate," he said.
The representative of the Ijaw nation, Benjamin Ogbada, said their people believed they are being marginalized, adding that without justice, they are not comfortable with the entity called Nigeria.
Also speaking, Prof Yusuf Usman Yusuf, who went round eight states with Sheikh Ahmad Gumi negotiating with Bandits, said the problem of Nigeria is the elites.He said the poor men everywhere want better lives.
"We can't give back. How many of us can go back home with our black Jeeps? Elders are losing control of their youths, we've seen that with Gumi with the Fulani youths," he said.
On his part, Sheikh Abubakar Gumi said there is a longtime problem when people talk about revenue sharing and the constitution.
"The immediate problem we have today is graduates not having jobs. That is a time bomb. What of millions who don't have education," Gumi said of herders who are easily being cajoled by bandits into carrying arms.
The convener of the programme and founder of Vision Africa, Bishop Sunday Onuaha, said there exists a wide gulf of trust deficit amongst the many divides that make up Nigeria
🔎Follow Us On Our Social Handles🔍
```