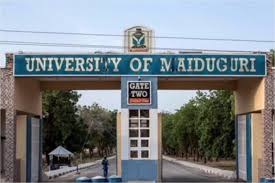 University of Maiduguri (UNIMAID) Management Has Placed a Ban on all Students from Cooking in Hostel Rooms, Threatens to Expel any Student Caught Violating the Order.
Recently the University has witnessed fire outbreak in the Students halls of residence, specifically the girl's hostels.
This is attributed to cooking in the rooms in contravention of the rules and regulations of hostel residence.
In order to protect lives and properties of the student, the Management of the University has directed the Hall Officers to ensure prevention of such occurrences by expelling any student found to be cooking in the room.
Any attempt by a student or group of students to assault or disrupt any member of staff from discharging his/ her official responsibility amounts to gross misconduct that will result in expulsion from the University
[carousel_slide id='8496']
Advert Inquiries & Submission of News report or Articles
Articles and News Report: Info@ideemlawful.com or deemlawful@gmail.com
For your Adverts, Banner Placement, Publicity, Press Releases, Promotions, Special Reports, Featured Stories, Events Coverage, Conferences, Interviews, And So On.
Info@ideemlawful.com or 09093862098 (whatsapp only)