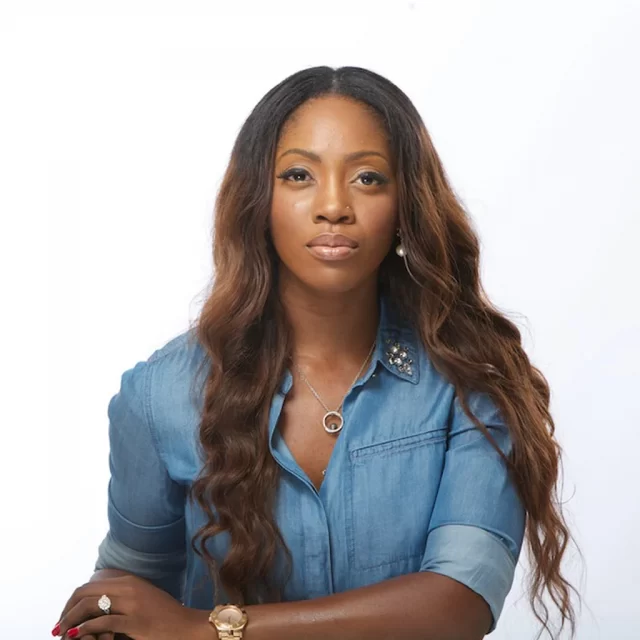 Crisis may have set in the marriage of Nigerian singer, Tiwa Savage, threatening to destroy the relationship that has already produced a child.
This is just as Tiwa's husband, Tee Billz is making disturbing accusations against her on the social media.
From the slew of posts on Teebillz' Instagram account @ teebillz323 on Thursday, their 3-year-old marriage blessed with a son, may be heading for the rocks.
[ALERT! 🔵]JOIN our Group to Receive latest News updates directly on your WHATSAPP.
[TAP HERE!!]
According to Teebillz, the marriage between him and the Mavin artiste whom he once managed is over.A
Although it is still sketchy if Teebillz's account was hacked or not, screen shots of his Instagram posts reveal him saying "It shall never be well with Tiwa Savage."
Kavilla Custard
[NEW📢!]JOIN our Group to Receive latest News updates directly on your WHATSAPP!
[TAP HERE!!]
He wrote: "@tiwasavage this was you when I met you with 100% insecurity. I remember when Wale called me about a girl that's got talent and u told him I wasn't interested!"
He said "Please just take care of JamJam. I sacrificed my life for you and put in work and my money to your success. You are Tiwa Savage the super star now right. You will never have peace with that fame."
Your mother wants to turn me to what she turned your DAD to? I will rather Die. Ask her to confess what she's done to me! All I did was look out for your success and forgeries g who I am.
Teebillz also made claims that Tiwa Savage has been torturing him mentally.
He wrote: "Lord knows I tried. I have been mentally tortured by the woman I gave everything to. I'm not perfect but I'm far away from being the best husband. Because when I dint have you paid bills and you took my manhood away."
You have thrown my clothes out of the house more than 5 times because of the love I have for you. I still take it and because of Jamil. I don't want to go through divorce like my father that has been married 4 times. Your mother humiliated so much that I dint care.
"In a more shocking and damning revelation, Tee Billz alleged that his wife had slept with Dr. Sid, Don Jazzy and 2face Idibia."
With in what period of time did you Fuck jazzy and Dr Sid. And I dint care because the love I have for you. I looked at it that we all have a past even when at this same fucking time you were fucking with 2face.
He also praised Omawumi and his wife for the way they treat him.
"Tosin Yosuf aka Omawunmi's husband. I wish I met you earlier when I just moved to Nigeria. You have been a great friend and brother to me in throne month. I should have done this 2weeks a ago but the joy of being around dint let me."
You have a wife that he did not let the music business take the best of her. I know how Mrs Yusuf treats us when we at your house.
"I feel very at home and praying that I wish my wife can get a life and be like this. All she cares about is next single, her makeup and hair, her brand and all that BS. Pls tell the world have you asked your husband in the last 3yrs if he has eaten."
Thank you to Ani Idibia and Anita my Neigbor that provides home cooked meal for me when I needed. That! Yes you became the bread winner when I decided I'm not in business with you again, take everything I just want my wife. Tiwa.
You will never have peace except my spirit forgives you. Tell your mother to confess what she mounted in the house for you to shine with my star. It's deeper than what you think.
"I'm sorry Olabisi, Gaetano. Onah and jamil. All daddy wanted to do is be a good father and take care of all of you but they won't let me. I have been fighting this spiritual battle since I was a kid my mother and father can testify. Went from family battle to mother in laws battle. @tiwasavage ask your mother to confess what she's done to me."
In his long emotional rant Tee Billz stated that he is tired of being with Tiwa Savage. He accused her of frustrating his business efforts and said her mother is a witch.
"Lord knows I tried. I can't take it anymore. I decided that I wanted to take time out from music business so you and me will not be in the same basket of the music industry. You never supported me for day one every move I made and every project I layer my hands one was going all bad. Thanks to your mum witchcraft! Tell her to confess to you.
"Continuing Tee Billz spoke about his father. "
To you Mr Ibrahim Olatunji Balogun Snr…I tried my best not to be like you but instead of focusing on being a Better person I was worried about not wanting to be like you. I reached out and cry to you as my father but all you care about is yourself and your money…
"I ended up having kids like you by multiple women and my first marriage and only marriage dint make make it to 2 years just like the one you had with my mum. Why the Fuck did God Make you my father."
Tee Billz ended his outburst with a disturbing note.
He wrote, "I'm sorry I must have disappointed you guys. I just dint have the strength to fight this battle any more.
"May God Forgive me and accept my soul in peace."
Meanwhile, all efforts to reach the Mavin first lady were abortive.
On her social media account, the singer is yet to respond to Tee Billz's rant.
Recall that the duo tied the knot in Dubai in November 2013 and this is not the first bang in her marriage.In 2014, there were string rumours of serious marital crisis.
[carousel_slide id='8496']
🔎Follow Us On Our Social Handles🔍
```