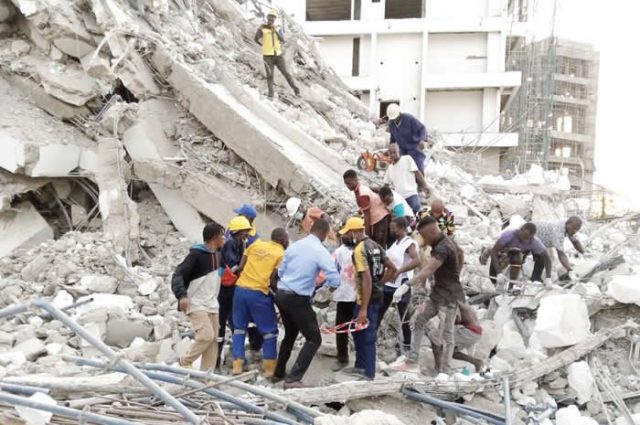 The corpses of the Managing Director, Fourscore Heights Limited, Mr Femi Osibona, and his friend, a United States of America-based Nigerian businessman, Wale Bob-Oseni, have been recovered from the 21-storey building that collapsed on Gerrard Road in the Ikoyi area of Lagos State.
PUNCH Metro learnt that their bodies were found on Thursday by responders during the recovery operation at the scene of the incident.
Bob-Oseni, a real-estate dealer, was on his way back to the US on Monday when he got a call from Osibona to check out the project.
Both friends were subsequently trapped when the building collapsed.
Our correspondents had reported that the 21-storey building crumbled on Monday around 2pm when Osibona, who owned the project, his clients and workers were on the site.
One of our reporters, who was at the scene on Thursday, reported that no fewer than 40 corpses had so far been recovered from the site.
However, the Lagos State Governor, Babajide Sanwo-Olu, around 1pm said 32 bodies were recovered.
Families lament delay in identifying corpses
Some relatives of the victims lamented the postponement of the identification of corpses recovered by emergency workers.
They recalled that Sanwo-Olu said autopsies were being conducted on the corpses but families would be able to identify their loved ones from Thursday.
The bereaved families said when they visited the Mainland Hospital mortuary, Yaba, on Thursday, they were denied access to the bodies.
The father of an 18-year-old boy, Edward Godwin, while in tears, said he was not allowed to identify his son's body despite the governor's assurance.
He said, "I honestly needed to see my son yesterday (Wednesday). I've been to the general hospital to check those injured, but my son was not there. I thought I would be able to see him today, but I've not been able to see my son."
A woman, who did not identify herself, said she had been to the state morgue as well but was not allowed to identify her sister's son.
She said, "The governor said yesterday (Wednesday) that we would be able to see the corpses recovered today (Thursday) and check if our loved ones were there. But when I went there today, I was not allowed to see anything despite telling them that the governor said we would be able to check today.
"I want to know if the boy is still alive or dead. I have not told my sister about what happened because she's not staying in Lagos and I want to know if he's dead or not before telling her. The government should just allow us to see if our people are there or not."
Another woman, who identified herself as Florence, said she spoke with her brother on Sunday before she got a call that he was among those trapped.
She said, "My younger brother is here; I spoke with him last on Sunday but someone called me that something happened and I came here yesterday.
"Someone told me he was among those rushed to the hospital and I went to the general hospital and showed someone his picture and he confirmed that he was brought in unconscious. But since yesterday, I've not seen him or sure of the hospital he was taken to."
We observed as a black Toyota Highlander reportedly owned by an aluminium fabricator trapped in the rubble was driven away from the site on Thursday.
The wife of the victim, who sat under a tree, looked vague and declined comment when one of our correspondents approached her.
Conflicting casualty figures
A senior government officer, who did not want to be identified, told PUNCH Metro that 35 males and three females were brought out dead from the rubble as of 11.50am on Thursday.
[carousel_slide id='8496']
Advert Inquiries & Submission of News report or Articles
Articles and News Report: Info@ideemlawful.com or deemlawful@gmail.com
For your Adverts, Banner Placement, Publicity, Press Releases, Promotions, Special Reports, Featured Stories, Events Coverage, Conferences, Interviews, And So On.
Info@ideemlawful.com or 09093862098 (whatsapp only)