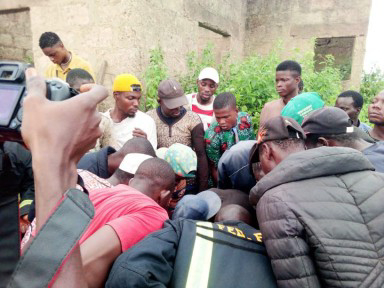 There was pandemonium on Tuesday, at Koledowo, Ibuaje Area of Osogbo, Osun State Capital, following the news of the death of two children, allegedly thrown and drowned in a water well by their biological mother.
The incident, according to CityMirrorNews Correspondent, occurred on Monday, on Anjorin Street , Ibuaje Area, Osogbo
Though details of the incident were sketchy as at the time of this report, sources from the community said the middled-aged woman, was reported to have thrown her two daughters in a well, owing to her inability to cater for their welfare.
The woman according to the sources, dropped her first daughter, aged 7 years, and her younger sister, aged 5 years into the well in the Community at about 2:00 am.
The body of the girls were yet to be recovered or removed from the well as at the time of filling this report
Speaking in an incoherent manner , the mother of children said, she was living abroad before she was later deported.
She added that she also discovered that they have used the glory of her daughters when she was away from home and decided to throw them into the well.
As at filling this report, police officers had been called to the scene of the incident with efforts being made to remove the bodies of the dead girls from the well
[carousel_slide id='8496']
🔎Follow Us On Our Social Handles🔍
```