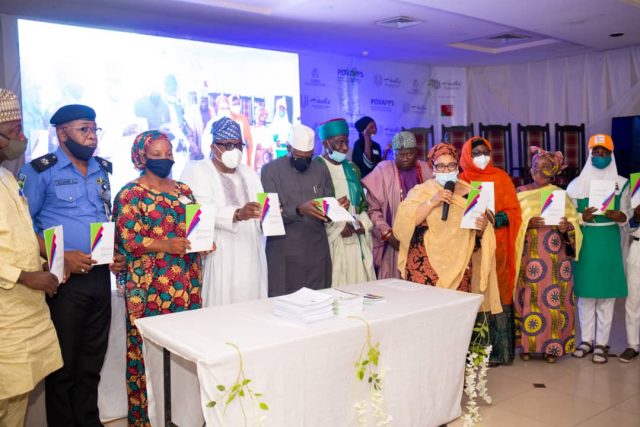 Hadis Foundation, in collaboration with Kwara State Ministry of Women Affairs and Social Development and other partners, hosted a dialogue on the Violence Against Persons Prohibition (POVAPPS) Law in Kwara State.
The dialogue focused on popularizing the 2020 gazetted Violence Against Persons Prohibition (VAPP) law, was held on 25 November 2021, at the Kwara Hotels, Ilorin. The prevalence of Sexual and Gender-Based Violence (SGBV) in society, according to the organizers, exacerbated by the COVID-19 pandemic, made this dialogue necessary.
The hybrid event, sponsored by the Ford Foundation, brought together secondary school students, teachers, traditional rulers, security forces, civil society practitioners, the Kwara SGBV committee, and top government officials in person and virtually.
Chief Kayode Alabi, the Deputy Governor of Kwara State, delivered a commitment address, reinstating the zeal of the Kwara State government in ensuring that gender-based violence is eliminated.
Ms Funke Baruwa shared a message of goodwill from the Ford Foundation, acknowledging the commencement of the United Nations' Orange 16 days of activism against Sexual and Gender-based Violence (SGBV) and the Ford Foundation's ongoing commitment to eradicating SGBV.
Prominent legal practitioner, Yusuf Ali, SAN, delivered the keynote lecture, highlighting the increase in sexual and gender-based assault cases and low conviction rates.
He argued for more rigorous punishment for perpetrators and psychological evaluation and mandatory psychiatric rehabilitation, including a law for the protection of persons with disabilities.
The Honorable Deborah Abosede Aremu, Commissioner for Women Affairs and Social Development (MWASD), pledged the government's commitment to ending SGBV in the state including establishing Sexual Assault Referral Centers (SARCs) in state hospitals to provide safety and assistance to individuals in need.
A village square conversation which brought together panelists and audience members to address the shifting environment of sexual and gender-based violence had government, disability community, academia and medical field was also held, thereby committing to fighting SGBV in Kwara state.
The Permanent Secretary, Hajiya Afusat Nike Ibrahim presented the Hadis produced simplified version of the Kwara VAPP Law in English and Yoruba. She encouraged students and other young people to seek assistance and contact the appropriate organizations if they encounter any type of SGBV.
In keeping with the Hadis Foundation's commitment to ending sexual and gender- based violence and developing community vanguards, the foundation received pledges from residents and organizations interested in the project and willing to collaborate as vanguards in the fight to end SGBV in Kwara State.
🔎Follow Us On Our Social Handles🔍
```