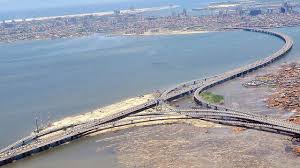 The Federal Government has reacted sharply to social media speculations about the Third Mainland Bridge in Lagos "opening up" and "shaking".
In a sharp rebuttal on Tuesday following a drive along the iconic bridge by Olukayode Popoola, the Federal Controller of Works in Lagos State, the Federal Government debunked the rumour saying that the controller didn't notice any shaking or opening up as reported on social media.
Spokesperson of the Federal Ministry of Works, Ms. Bolade Akinola in a statement on Tuesday, November 9, 2021, asked commuters to ignore the claim saying that the rumours were wholly untrue.
"The federal controller of works in Lagos, Engineer Olukayode Popoola, has debunked insinuations making the rounds in the social media that the Third Mainland Bridge in Lagos has "opened up" and "shaking" and, therefore, unsafe to traffic saying the claim was both false and unfounded."
Giving an on-the-spot report on the Bridge, the controller, who said he just drove along the Bridge without noticing any opening or experiencing any shaking as contained in the social media report, advised members of the public.
"Especially commuters to ignore the insinuations as the Bridge, which is receiving regular attention along with others across the country, is safe for use."
The federal administration said in debunking the claims of the Third Mainland bridge shaking or opening up
[carousel_slide id='8496']
Advert Inquiries & Submission of News report or Articles
Articles and News Report: Info@ideemlawful.com or deemlawful@gmail.com
For your Adverts, Banner Placement, Publicity, Press Releases, Promotions, Special Reports, Featured Stories, Events Coverage, Conferences, Interviews, And So On.
Info@ideemlawful.com or 09093862098 (whatsapp only)