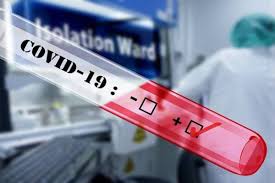 South Africa's National Institute for Communicable Diseases (NICD) announced the discovery of the new variant, B.1.1.529 — with 22 positive cases of the strain detected in the country.
After a meeting of the technical advisory group on SARS-CoV-2 virus evolution (TAG-VE), an independent group of experts that periodically monitors and evaluates COVID-19 evolution, the World Health Organisation (WHO) named the new variant "Omicron" and designated it a 'variant of concern' (VOC) because of its "concerning" number of mutations.
Scientists are working to unravel more details about the variant. But here are a few things we do know about the Omicron COVID-19 variant.
Read also: COVID-19 variant: Mauritius to stop flights from South Africa
WHEN AND WHERE WAS IT FIRST DETECTED?
According to the NICD, the variant was first identified on November 23 from Lancet samples collected from Gauteng that showed different results in the PCR. These samples were taken from November 14 to November 16. It is, however, not clear where the variant originated from.
WHERE HAS THE VARIANT BEEN DETECTED?
Currently, the Omicron variant has been detected in six countries — 83 cases in South Africa, six in Botswana, two in Hong Kong, two in the United Kingdom, and one each in Israel and Belgium.
WHY SO MUCH CONCERN ABOUT IT?
All viruses — including SARS-CoV-2, that cause COVID-19 — change over time (mutate). Though most of these changes have little or no impact on their properties, some may affect how easily they spread, their severity, or the performance of vaccines against them.
What worries scientists is that the Omicron variant has 32 mutations, some of which are novel, in the spike protein — the part that allows the virus to penetrate host cells and cause infection. These mutations are double that of the Delta variant, the dominant and most infectious COVID-19 variant so far.
These mutations in the spike protein not only affect the virus's ability to infect cells and spread — it also make it harder for immune cells to attack the pathogen and make it so much different from the original coronavirus that current COVID vaccines were designed to combat.
DOES INFECTION WITH OMICRON VARIANT GIVE DIFFERENT SYMPTOMS?
There are currently no reports of unusual symptoms following infection with the Omicron variant, and as with other variants, some individuals are asymptomatic.
IS IT MORE TRANSMISSIBLE?
Although it is not yet clear just how transmissible it is, in recent weeks, infections have increased in South Africa steeply, coinciding with the detection of the Omicron variant.In a press conference on Thursday, Joe Phaahla, South Africa's health minister, said, "over the last four or five days, there has been more of an exponential rise," adding that the new variant appears to be driving the spike in cases.
COVID-19 cases in the country rose by the start of this week — with most of these cases from Gauteng province.
Preliminary evidence also suggested an increased risk of re-infection with the variant compared to other variants of concern.
HOW CAN IT BE DETECTED?
Thankfully, current SARS-CoV-2 PCR diagnostics are able to detect this variant and it is relatively easy to distinguish from the Delta variant. Several labs have indicated that for one widely used PCR test, one of the three target genes is not detected (called S gene dropout or S gene target failure) and this test can therefore be used as marker for this variant, pending sequencing confirmation.
Using this approach, this variant has been detected at faster rates than previous surges in infection.HOW
EFFECTIVE ARE COVID-19 VACCINES AGAINST OMICRON?
The variant was only just recently detected, there is little data on how it behaves in the real world.South Africa's health minister said he expects the existing vaccines to still offer protection against severe illness and death from the new variant, even if they might be less effective at preventing infections and milder disease.
BioNTech, which developed one of the most commonly used COVID-19 vaccines together with Pfizer, said it would take about two weeks to establish whether the new variant renders its shot less effective. They added that they could produce a new vaccine adjusted to any variant within six weeks and ship initial batches within 100 days.
Moderna also said it was testing three existing COVID-19 vaccine booster candidates against the Omicron variant, and that it would develop a new variant-specific booster against it.
🔎Follow Us On Our Social Handles🔍
```