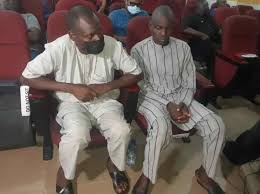 As many as fourteen persons have been arrested in connection with the recent siege on Justice Mary Odili's apartment in Abuja, according to SaharaReporters.
The police authorities disclosed this on Thursday.
One of those arrested is a fake Superintendent of Police, the police said.
Security operatives had on Friday stormed the residence of Justice Odili, claiming that they received information on "illegal activities" in the house.
Some court documents subsequently emerged online indicating that a police officer named Lawrence Ajodo had applied to the Chief Magistrate's Court in Wuse Zone 6 for a search warrant to be executed at the address.
The signatory, Ajodo, claimed to have signed the application as the officer in charge of Assets Recovery Investigation Team.
The application was written on a letterhead of a body named 'Ghost Account For Local Government Whistleblowers & Assets Tax Recovery Panel'.
Then, the footnote of the letterhead has the contact details of what was described as 'Head of Criminal Litigation' with its address given as 18, Tunis Street, Wuse Zone 5, Abuja.
Along with three telephone numbers, the email address of the "unit" was given on the document as Agf.asstsrecovery@gmail.com.
Attorney-General of the Federation Abubakar Malami (SAN), the Department of State Services (DSS) and the Economic and Financial Crimes Commission (EFCC) denied any involvement in the act, which drew widespread condemnation
🔎Follow Us On Our Social Handles🔍
```