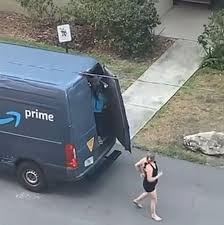 An Amazon driver who was sacked after a clip of a woman sneaking out of the back of his van went viral has claimed that she was in fact "his partner".
The clip of Tywan George's van was shared on TikTok and it went viral, causing him to lose his job. People who watched the video, showing Tywan appear at the van door to close it after the woman exited the van, concluded the woman is a sex worker who had sex with the Amazon driver.
Tywan has now revealed that the video was filmed back in July 2019 in Florida. He also insisted that he was "just doing his job", reports the Mirror.
Tywan told a TMZ reporter in a video call: "It was just a one-time incident, but I did what any other man in America would do.
"I felt like losing my job was the worse that they could do to me, there was no packages reported missing, nothing was reported stolen.
"It was just the incident went viral, that's what cost me my job."
I kind of knew it too once I'd seen the video going viral, once it got a million views on TikTok, I kind of knew it because I know Amazon are strict.
"Answering questions specifically about what he was doing in the back of the truck in the viral video, he said he was "just doing my job" and that the woman was his "partner".
[carousel_slide id='8496']
Advert Inquiries & Submission of News report or Articles
Articles and News Report: Info@ideemlawful.com or deemlawful@gmail.com
For your Adverts, Banner Placement, Publicity, Press Releases, Promotions, Special Reports, Featured Stories, Events Coverage, Conferences, Interviews, And So On.
Info@ideemlawful.com or 09093862098 (whatsapp only)