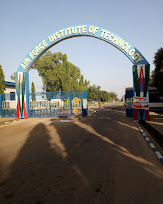 This is to inform prospective students of the Airforce Institute of Technology that the Post-UTME Screening Exercise has been scheduled to hold as follows;
29 November, 2021.
B.Eng. Aerospace Engineering
30 November, 2021.
B.sc Cyber Security
BSc. Computer Science
B.Eng. Telecommunication Engineering
B.Eng. metallurgical and Materials Engineering
B.Eng. Automotive Engineering
BSc. Physics with Electronics
1st December 2021
​​BSc. International Relations
B.sc Business Administration
2nd December 2021
B.Eng. Mechanical Engineering
B.Eng. Electrical/Electronic Engineering
B.Eng Information and Communication Engineering
B.Eng. Mechatronics Engineering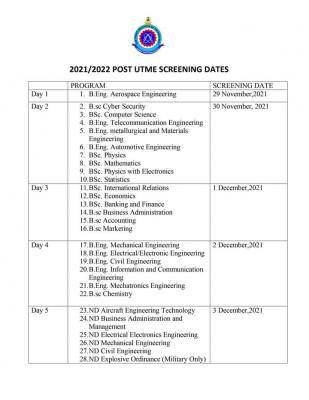 3rd December 2021
ND Aircraft Engineering Technology
ND Business Administration and Management
ND Electrical Electronics Engineering
ND Mechanical Engineering
ND Civil Engineering
ND Explosive Ordinance (Military Only).
🔎Follow Us On Our Social Handles🔍
```